CELEBRATING THE LAND THROUGH HAND-DRAWN, BESPOKE MAPS.
Award winning maps by Alexander Broers
browse the maps
We're a small Australian studio devoted to hand-crafted maps, inspired by the rugged wilderness and beautiful places we call home.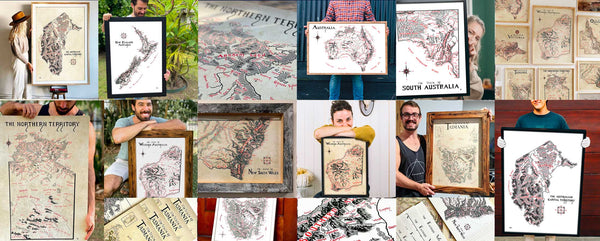 ARTIST'S NOTES
"I hope you enjoy these maps as much as I did drawing them! Each one is crafted by hand using pencil, pen and inks, inspired by the wilder corners of the world; I can almost hear the crackle of a camp fire, smell the earthy scent of a forest and see mountain peaks breaking through the misty horizon." - Alexander Broers
Australian States & Territories
WHAT PEOPLE ARE SAYING ABOUT US:

"These maps are gorgeous! Can't think of a better homegrown business to support. Alex is lovely to deal with, recently express posting one for a gift and refusing extra payment."
Maureen Greet

"Purchased a map for my son. Quick response with queries and the map I have received is sensational, and we even had our home marked on there. Big recommendation from me!"
Chris Solnordal

"My wife & I were totally blown away when we got our Western Australia map this week. The detail is remarkable & for two people who live for hiking, we couldn't have asked for more. Thanks!"
Brian McTavish

"Beautiful piece. NZ map with our family name and home plotted in to the area we live. Husband very happy with his birthday present. A bit of discussion about where it will be hung. Man cave or main house!"
Jeanette Peacock

"Love our map of the ACT - thanks Alex! Especially as it shows many of the out of the way places we have visited over the year. Purchased as an anniversary gift for my husband and it's ready to hang 🥳"
Anne Ashton

I received my Tasmanian map as a gift and I was thrilled with the stunning intricate quality. I ordered 2 more as gifts! Alex couldn't have been more helpful. Great customer service and a beautiful product.
Aitran Nguyen