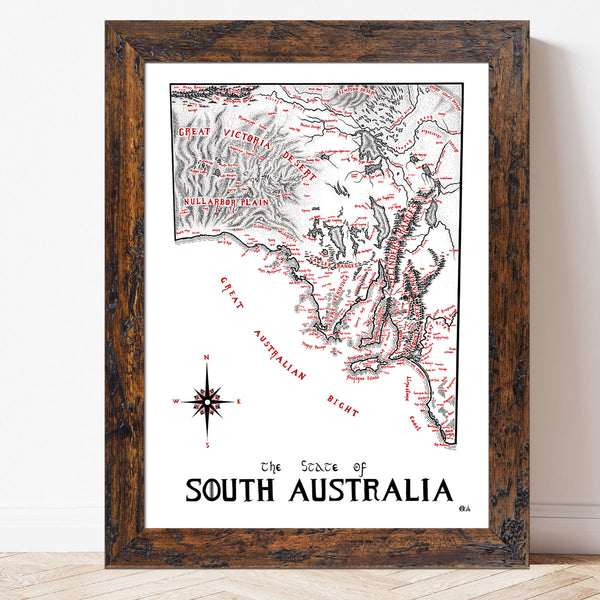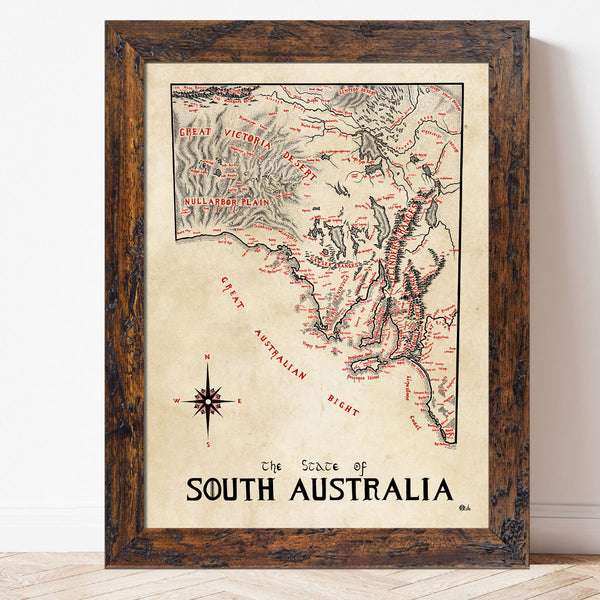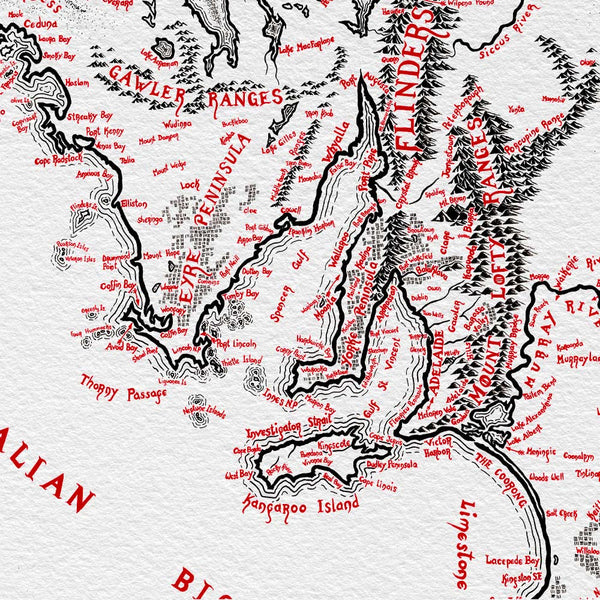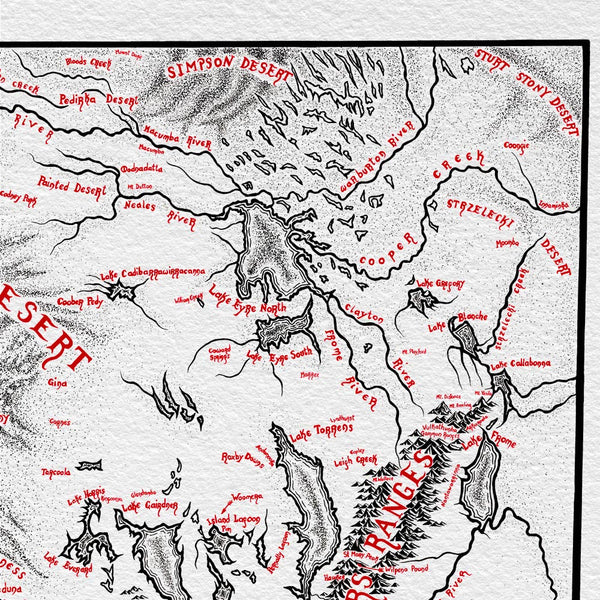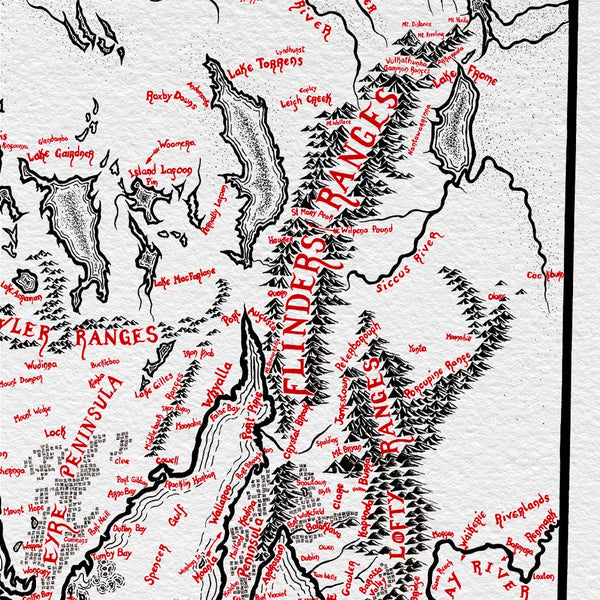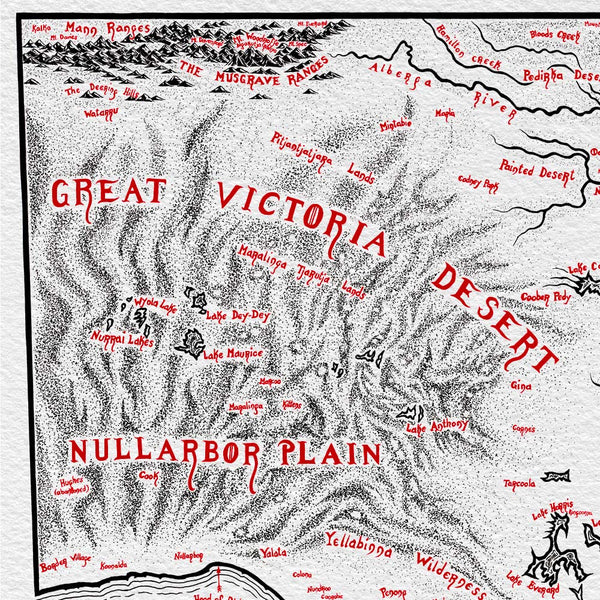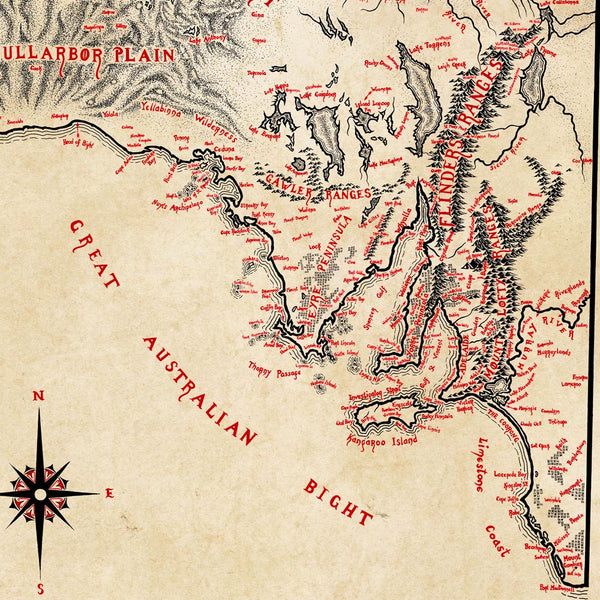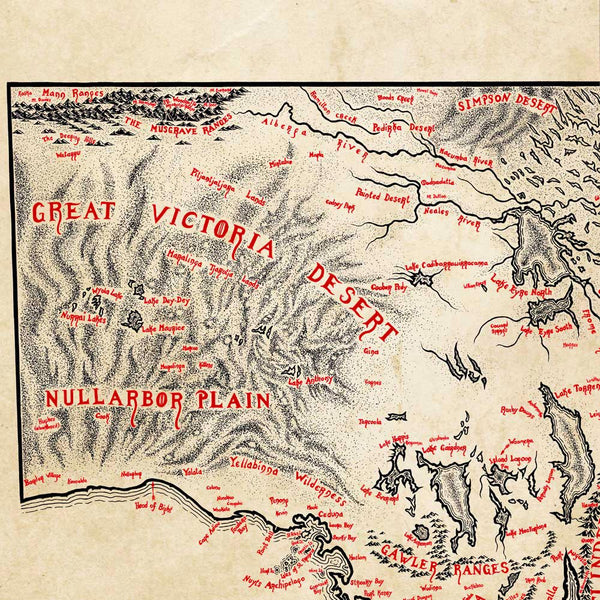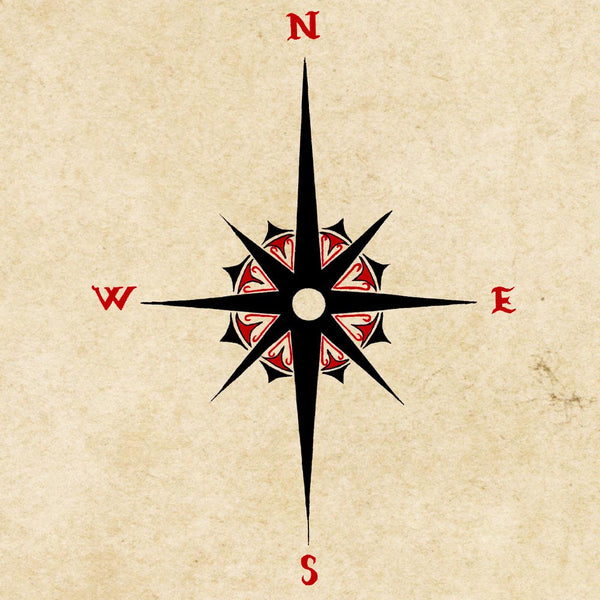 Regular price
$75.00
Unit price / per
Including GST
Born out of a love for Australia's mountains, wild places and fantastic nature, the South Australia map has been meticulously hand drawn with black and red inks over a 55 hour process. 
_____________________ 
LIMITED NUMBERS: as a small business I can only produce maps in small numbers. Print numbers are limited.
LOCALLY MADE: all map prints are produced in Australia or NZ; your purchase goes directly to supporting local businesses.

PERSONALISATION: if you would like me to add a special marker for your home, a town or anything that is significant, please order an A1 size and  email me using this contact form with your request.
ARTIST'S NOTES
 This particular map is all about showcasing the immense landscapes, iconic coastline and rugged desert terrain that make this state so spectacular. The design itself is bold and strong, with all important geographical features, wilderness areas, main cities and towns present. You will also find a large array of smaller townships also included and a unique style of desert design, known as stippling, that does not feature on any other map in the collection.
The map features all the main topographical landmarks, with the low hills and soaring mountains of the Mount Lofty, Flinders, Gawler, Middleback, Porcupine, Musgrave and Mann Ranges all distinctly visible. The iconic Eyre Peninsula, Yorke Peninsula, Adelaide Hills and Fleurieu Peninsula are dotted with cities, small towns and valleys, while to the West the terrain changes to the dry desert climate of the Nullarbor Plain. From the Limestone Coast all the way to Head of Bight, the coastline features historic capes, bays and island groups, as well as important national parks. To the North the great Australian Outback begins, with its famous salt lakes and desert regions stretching across the landscape. 
PRODUCT DETAILS
PREMIUM MATTE PAPER
Your map print is printed on an acid-free 270gsm matte parchment with giclée inks. The colours will remain vivid for many years to come and the detailing is extremely sharp. 
• 270gsm weight
• Giclée inks
• Matte finish
Prints are shipped in either a hard card box or mailing tube depending on the size. Please allow time to flatten before use. Prints are not provided with a frame. 
 BACKGROUND COLOUR 
You have the option to choose between two background colours; the Original, which is a soft white and has some subtle texturing, or Antique, which is printed on the same paper but contains an aged-look reminiscent of an antique map.
SIZES
Maps are available in three sizes; A3 (30 x 42cm), A2 (42 x 59.5cm) and A1 (59.5 x 84cm). As these maps are highly detailed, the legibility of smaller texts and labels will be somewhat reduced at the A3 size. This is not due to any loss of quality, but simply that the writing will become quite small in certain instances. If you have the wall space available, our personal recommendation is to go with an A2 or A1 size. 
MAP FAQ
HOW DOES SHIPPING WORK?
When you buy a print from Wildwood Maps, we send these directly to you in a protected mailing tube using Australia Post, New Zealand Post or International shipping.
HOW LONG UNTIL I RECEIVE MY ORDER?
Each map is printed on demand so that you receive a brand new map instead of one that has been sitting on a shelf. Most orders will typically be mailed out within 1-3 business days, and will then take (on average) 5-7 days to arrive. If Australia Post is experiencing delays or high volumes then this may impact your delivery date.
IF I RECEIVE A DAMAGED PRINT WHAT SHOULD I DO?
If you've had this experience I'm really sorry about that and will definitely help you out. If you've received a product with damage on it please let me know by sending me an email via the contact page. I'll need you to send it back to me and I'll send you a replacement.  If you never received something from your order please let me know asap! All of our products are tracked so we should be able to figure it out. If it truly is lost then I will send you a new one free of charge.
WHERE CAN I GET A FRAME FROM?
I don't sell frames or print hangers directly through the website as, depending on where you're based, the cost of shipping them can really inflate the final price of your order. But I am very happy to direct you to the best framer in your local area if I can!
I get my own frames from 
Mulbury

 Frames
and have recommended them to dozens of map-buyers, all of who have been super happy with them! Their products are made from salvaged timber and are beautifully textured. My personal recommendations are the 
Chunky Frame
 and 
Original Oiled Frame
.  
DO YOU DO COMMISSIONS?
 I'm happy to chat about any commissions if you'd like one! Please keep in mind that the pricing is a reflection of how much work goes into creating a new map. If you'd like to commission a design that can also be sold to the public I am happy to offer a discounted price. If you would like a map done in A4 or A3 then this also would make it more affordable. Send me an email on
an email via the contact page
 and we can chat about it!
I'D LIKE TO STOCK YOUR PRINTS IN MY SHOP. IS THIS SOMETHING YOU DO?