First Nations of Australia Map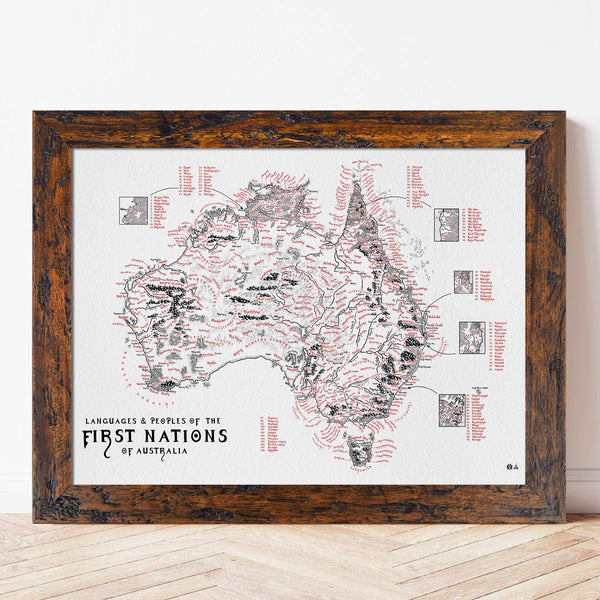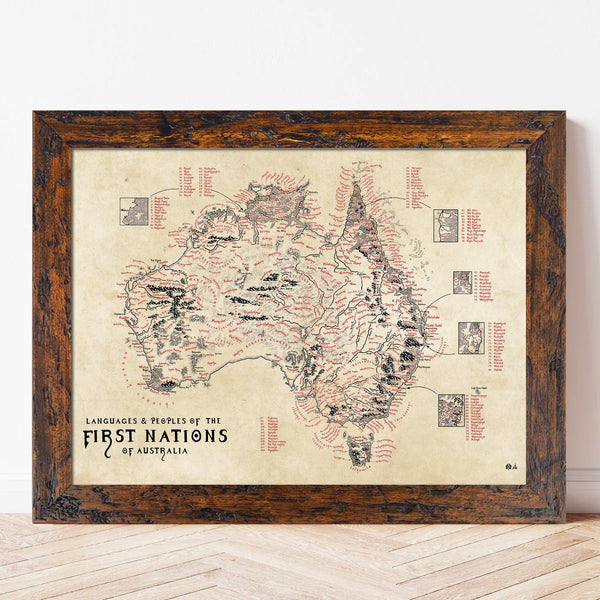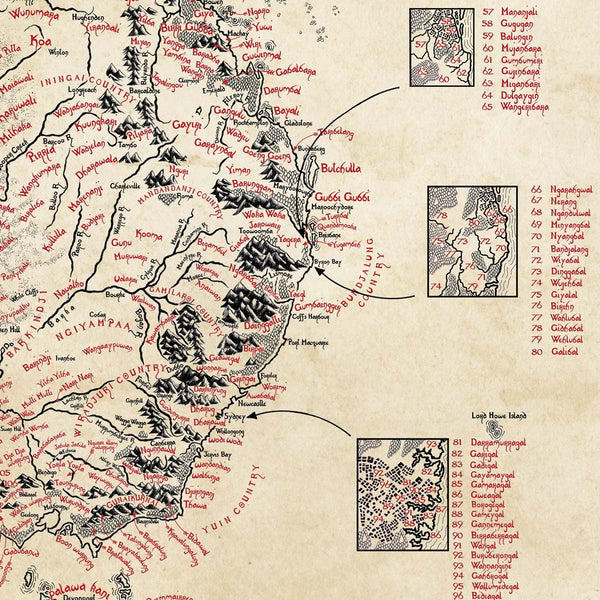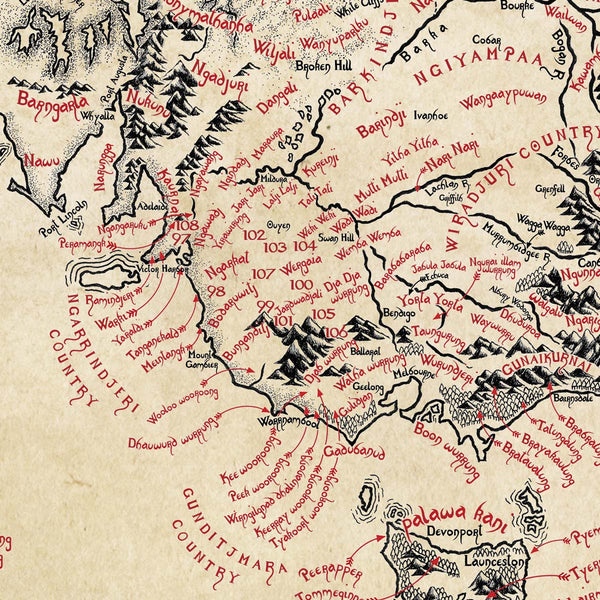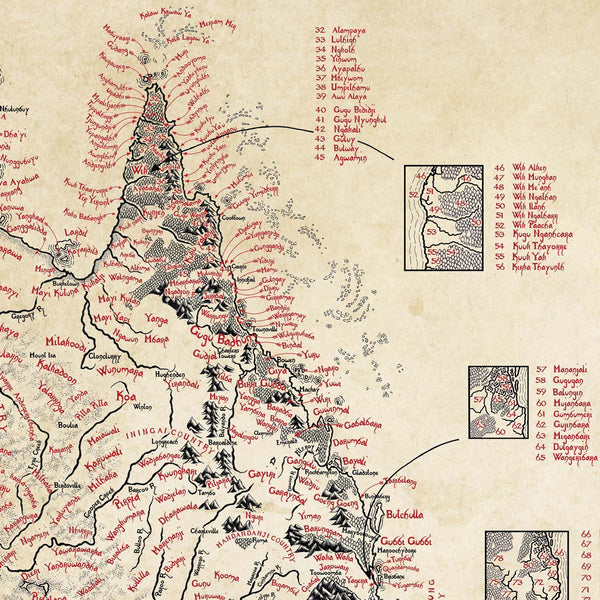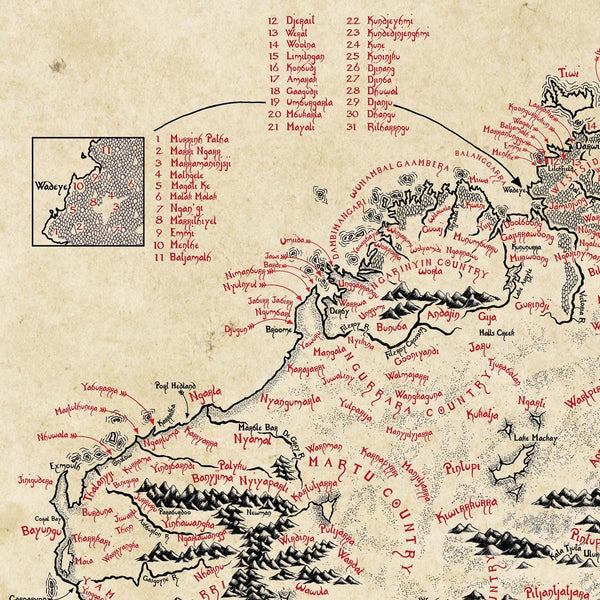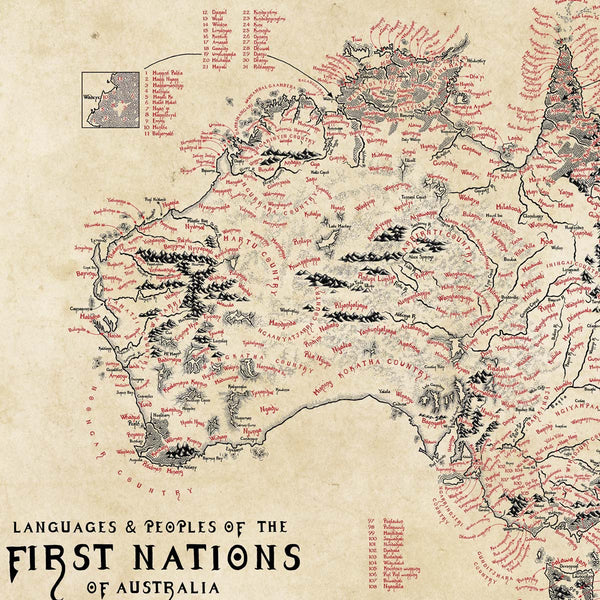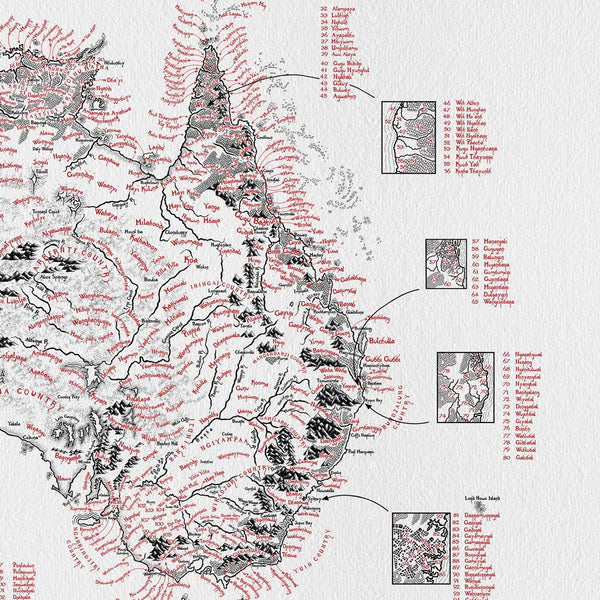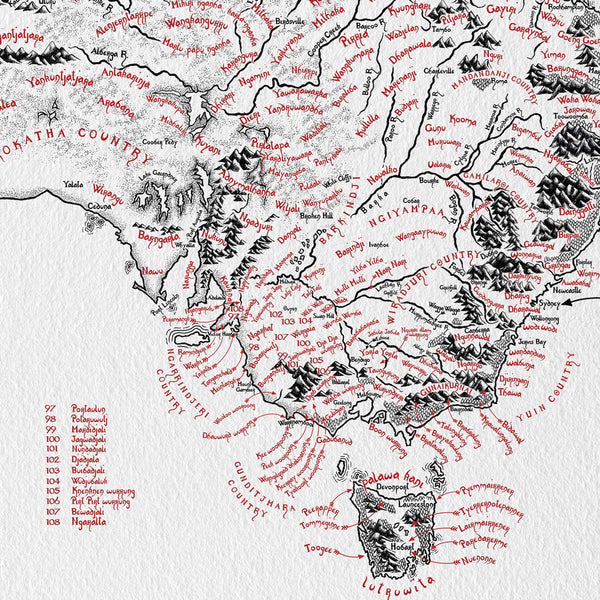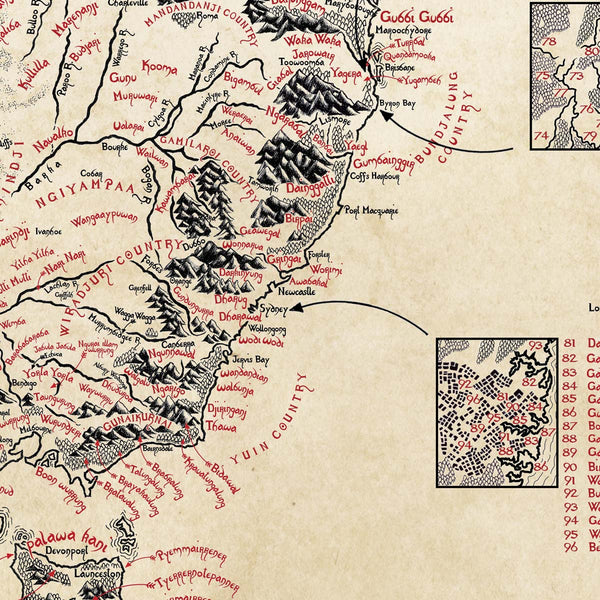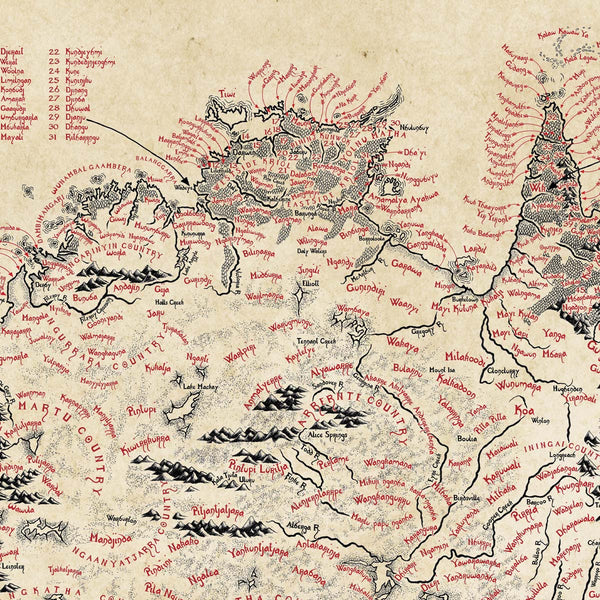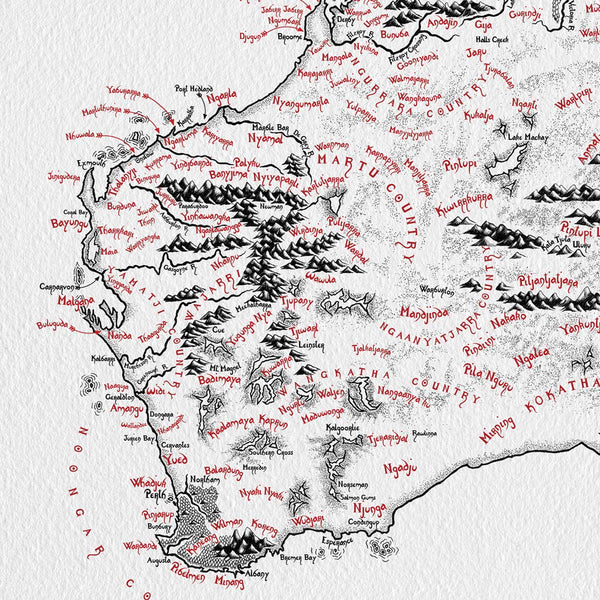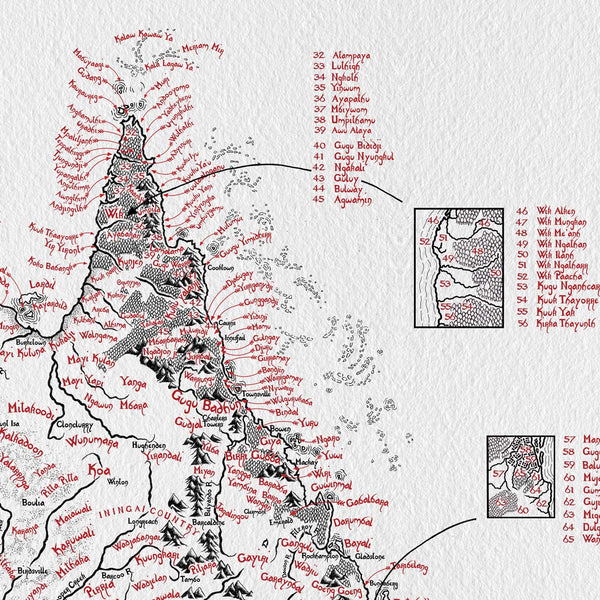 Regular price
$95.00
Unit price / per
Including GST
This First Nations map is a celebration
 of the richness and diversity of Aboriginal and Torres Strait Islander cultures, languages and identities found across Australia.
_____________________ 
DONATION: 20% of the proceeds of each map is being donated to a different Aboriginal or Torres Strait Islander charity every month.
LIMITED NUMBERS: as a small business I can only produce maps in small numbers. Print numbers are limited.
LOCALLY MADE: all map prints are produced in Australia; your purchase goes directly to supporting local businesses.

SIZES: this map is available in A2 (42 x 59cm) and A1 (59 x 84cm) , as well as a special extra large A0 size (84 x 119cm) for those who really want to appreciate  the detailing.
ARTIST'S NOTES
This particular map has been more than a year in the making and I have learned so much throughout the entire process. I have done my absolute best to include as many Aboriginal and Torres Strait Islander languages and dialects that are in use today and those that are classified as dormant. In this way I hope to showcase the diversity of the First Nations that make up Australia, and also acknowledge those that are no longer in use.
While doing the research for this map I discovered many resources and literature regarding Aboriginal and Torres Strait Islander languages, but on occasion these are at odds with what communities have to say. What ensued with a year long process of conversations with Aboriginal organisations and Traditional Owners, the community, much more research and a number of different renditions of the map before I felt like I had created something that was as accurate as I could make it.
I've done my best to cross reference each language with their corresponding Nation whenever possible, and have created the map in this way. I hope to have represented each Nation either by the languages they associate with historically, or the ones that they practice today. If I have got any of them in the wrong location I apologise and will update the map accordingly.
PRODUCT DETAILS
PREMIUM MATTE PAPER
Your map print is printed on an acid-free 270gsm matte parchment with giclée inks. The colours will remain vivid for many years to come and the detailing is extremely sharp. 
• 270gsm weight
• Giclée inks
• Matte finish
Prints are shipped in either a hard card box or mailing tube depending on the size. Please allow time to flatten before use. Prints are not provided with a frame. 
 BACKGROUND COLOUR 
You have the option to choose between two background colours; the Original, which is a soft white and has some subtle texturing, or Antique, which is printed on the same paper but contains an aged-look reminiscent of an antique map.
SIZES
Maps are available in three sizes; A2 (42 x 59.5cm), A1 (59.5 x 84cm) and A0 (84 x 119cm). While all the sizes display the map in crisp detailing, if you have the wall space available, our personal recommendation is to go with the larger A1 or A0 size for maximum enjoyment. 
MAP FAQ
HOW DOES SHIPPING WORK?
When you buy a print from Wildwood Maps, we send these directly to you in a protected mailing tube using Australia Post, New Zealand Post or International shipping.
HOW LONG UNTIL I RECEIVE MY ORDER?
Each map is printed on demand so that you receive a brand new map instead of one that has been sitting on a shelf. Most orders will typically be mailed out within 1-3 business days, and will then take (on average) 5-7 days to arrive. If Australia Post is experiencing delays or high volumes then this may impact your delivery date.
IF I RECEIVE A DAMAGED PRINT WHAT SHOULD I DO?
If you've had this experience I'm really sorry about that and will definitely help you out. If you've received a product with damage on it please let me know by sending me an email via the contact page. I'll need you to send it back to me and I'll send you a replacement.  If you never received something from your order please let me know asap! All of our products are tracked so we should be able to figure it out. If it truly is lost then I will send you a new one free of charge.
WHERE CAN I GET A FRAME FROM?
I don't sell frames or print hangers directly through the website as, depending on where you're based, the cost of shipping them can really inflate the final price of your order. But I am very happy to direct you to the best framer in your local area if I can!
I get my own frames from 
Mulbury

 Frames
and have recommended them to dozens of map-buyers, all of who have been super happy with them! Their products are made from salvaged timber and are beautifully textured. My personal recommendations are the 
Chunky Frame
 and 
Original Oiled Frame
.  
DO YOU DO COMMISSIONS?
 I'm happy to chat about any commissions if you'd like one! Please keep in mind that the pricing is a reflection of how much work goes into creating a new map. If you'd like to commission a design that can also be sold to the public I am happy to offer a discounted price. If you would like a map done in A4 or A3 then this also would make it more affordable. Send me an email on
an email via the contact page
 and we can chat about it!
I'D LIKE TO STOCK YOUR PRINTS IN MY SHOP. IS THIS SOMETHING YOU DO?